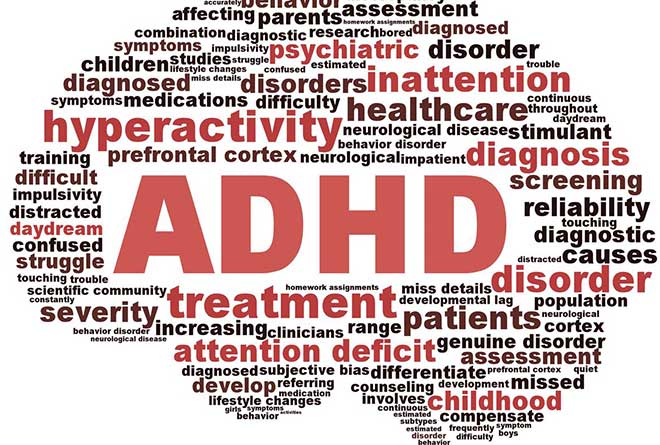 Life can be a balancing act for any adult, but if you find yourself constantly late, disorganized, forgetful, and overwhelmed by your responsibilities, you may have attention deficit hyperactivity disorder (ADHD), previously known as ADD. ADHD affects many adults, and its wide variety of frustrating symptoms can hinder everything from your relationships to your career.
While scientists aren't sure exactly what causes ADD and ADHD, they think it's likely caused by a combination of genes, environment, and slight differences in how the brain is hardwired. If you were diagnosed with childhood ADHD or ADD, chances are you've carried at least some of the symptoms into adulthood. But even if you were never diagnosed as a child, that doesn't mean ADHD can't affect you as an adult.
These are some common ADD symptoms:
Becoming easily distracted by low-priority activities or external events that others tend to ignore.
Having so many simultaneous thoughts that it's difficult to follow just one.
Difficulty paying attention or focusing, such as when reading or listening to others.
Frequently daydreaming or "zoning out" without realizing it, even in the middle of a conversation.
Struggling to complete tasks, even ones that seem simple.
A tendency to overlook details, leading to errors or incomplete work.
Poor listening skills; for example, having a hard time remembering conversations and following directions.
Getting quickly bored and seeking out new stimulating experiences.
Trouble starting and finishing projects
Chronic lateness
Frequently forgetting appointments, commitments, deadlines
Constantly losing or misplacing things (keys, wallet, phone, documents, bills).
Underestimating the time it will take to complete tasks.
Impulsivity
Frequently interrupting others or talking over them
Poor self-control, addictive tendencies
Blurting out thoughts that are rude or inappropriate without thinking
Acting recklessly or spontaneously without regard for consequences
Trouble behaving in socially appropriate ways (such as sitting still during a long meeting)
Being easily flustered and stressed out
Irritability or short, often explosive, temper
Low self-esteem and sense of insecurity or underachievement
Trouble staying motivated
Hyperactivity or restlessness
To diagnose ADD we usually start with a history and examination. Questionnaires and computerized neurocognitive testing (NCOG) can be helpful to rule in the diagnosis. In more complex or borderline cases, sometimes a formal neuropsychiatric testing is required. If medication is required, there are many choices available now of various strengths and duration of action that can usually be tailored to fit a patient's needs.
For more information or to schedule an appointment, please call 912.298.6646
New Patient appointments require a referral from your Physician. Please contact your Physician's office and have them fax a referral to 912.298.6622